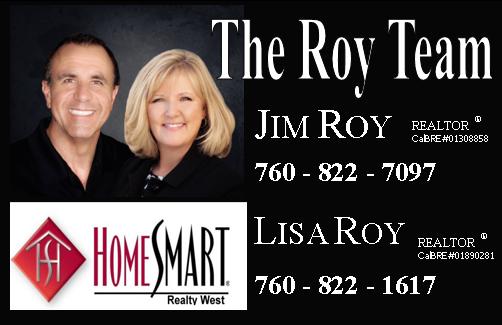 Jim: I have lived and worked in Ramona since 1982 and I enjoy working with my wife and TEAM ROY partner, Lisa. Our home is in Ramona; and we sell homes throughout Southern California. We have experience in all types of real estate: homes, investment, commercial, and land. We are experts in determining the CURRENT VALUE of a property in the ever-changing market and work hard on staying in touch with what is happening in our community. I have worked as an agent since 2000, and as a broker-associate since 2016.
Lisa: First licensed in real estate while in college in 1976, I enjoyed residential sales and new construction. I have always enjoyed the improvements and potential of homes I have sold or acquired. A career "in-between" for over 30 years in interior design & remodel has enabled me to really help sellers to stage and increase the value of their homes. The insights I have also benefit buyers who can envision the potential for the homes we see; and get excited about making those personalized improvements. I love the process of finding a home, ticking off the tasks and closing escrow successfully with happy buyers and sellers. I enjoy working with my husband Jim Roy since 2010, as we help others achieve their home goals.
Buyer Services
Are you considering purchasing a home or thinking of investing in real estate? If so, we would love the opportunity to meet you and help you with your real estate needs. Looking for property can be a daunting task, and there are thousands of properties to sort through. We can simplify this by sending you updated listings tailored for YOU through email daily, automatically. If you see something you want to view, call us! Lisa or I will contact you if something comes on the market that is suited for your needs!
Sellers Services
If you are considering selling your home, we provide a FREE Market Analysis designed to help establish your current market value. We can quickly sort through the most recently sold properties, and those active on the market, and get you the best information to maximize the value of your home. We know how to optimize your home to get the BEST current value; through simple improvements or staging.
As your real estate agents, our job is to look out for your best interests. This means locating the right property, getting you the best deal possible, and handling all the details of the transaction to ensure a smooth and successful closing. Together we apply years of experience in real estate knowledge to guide and assist.
As a team, we honestly seek to provide a level of service above and beyond the norm. The marvelous technology available to agents today gives us ready answers to simple or complex transactions. We love this industry and believe that our career is a way of serving people.